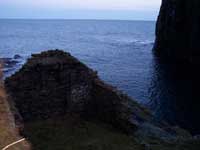 From the late 18th and early 19th centuries industrial development gathered pace. Around this time quarrying of the distinctive Caithness flagstone began on a commercial scale, supplying markets all over the world. As can be seen throughout the county today, the flagstone was essential to the local area for the manufacture of harbours, houses and the distinctive miles of field fences.
Farming was crucial to the county. Dovecots are amongst the earliest farm buildings in Caithness, dating from the late 16th century. They would only have been constructed on a landowner's estate. Large farmhouses and small crofts relate to the farming tradition. The farmhouses were associated with large fields enclosed by drystone dykes or the distinctive county flagstone set on edge. The houses were two-storey with fine steadings. Large corn-drying kilns could be found nearby. The crofts – many long, narrow cruck-framed buildings with man and beast sharing the same thatched roof – were situated on more marginal land. Later crofts had three bays with a central entrance flanked by windows. Wherever grain was produced on a large-scale water mills were used.
As throughout prehistory the sea was crucial to Caithness livelihoods during the 18th and 19th centuries. Wick became the largest fishing station in Europe, while smaller harbours sprung up along the coastline. The fishing explosion created new centres of population often far from the historic parish kirk leading to the construction of new churches.